Virtual Graduations
Overview
Registration
Personal Achievement Graphics
Ceremony Video
Custom Webpage
Add-ons
Virtual Graduations
Legacy Photographics is the leading provider of professional photography and memories products for graduation and commencement ceremonies. We also provide tools for Virtual Celebrations including ceremony videos, social media graphics, webpages to host virtual celebrations and products to honor graduates.
We have solutions for your commencement needs. Whether you are looking for a way to honor your graduates now until a ceremony takes place at a later date, or you are looking for additional ceremony alternatives... we can help.
A Simple Virtual Celebration Plan
There are many definitions of a Virtual Ceremony. In working with colleges and universities who are already well on their way to conducting a Virtual Celebration of some kind, we have developed a simple and effective plan. We have also learned things that should be considered. You can learn more about these items by clicking on the links to the left.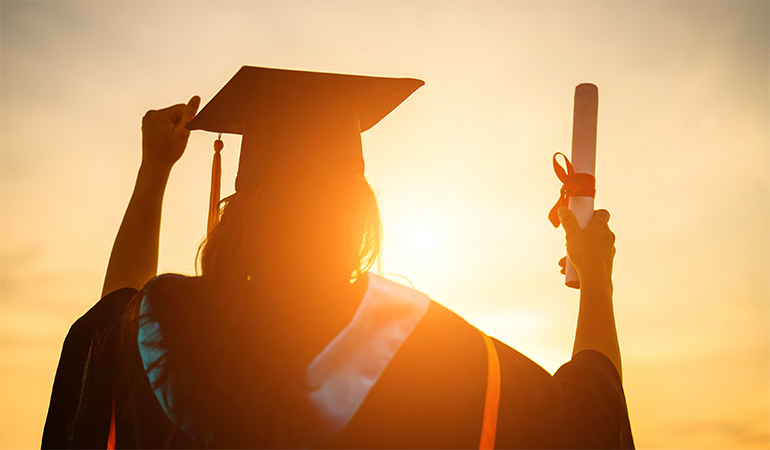 Safe Ceremonies
We provide ideas and solutions for safe ceremonies which allow students and administrators to remain at a distance and the ceremony to function touch-free. Images and names can be served to a big screen, video can be incorporated, images can be sent immediately to parents, friends and family who may be viewing from the audience or even at home.
Some considerations for safe ceremonies:
Will students be spaced to meet social distancing guidelines in your community?
Will you ask students to register for a time slot?
Will you ship the diploma/ diploma cover to the student or arrange for pick up?
Will administrators be present on the stage when the student walks across?
Will you need a new venue to accommodate social distancing?
Will an audience be present or only the graduates?
Registration
Do you need a way to collect information from students to decide who wants to participate in a Virtual or Online Ceremony? Or do you need a way to collect more student information so you can provide them with a Personal Achievement Graphic for social media? We can help! We can provide a registration page to collect optional and required data that could include: Name, Degree, Major, student image, mailing address and more! We even offer an administration portal where you can review the information collected!
Some items to consider for registration:
Do you want the photo to be required or optional? We have found that roughly 50% of students upload an image for a Virtual Ceremony when it is optional.
If you allow photos to be uploaded or quotes to be added, who will review this information prior to publishing? We have found that 10% of photos uploaded are not of the graduate or are inappropriate. Sharing rules regarding photos upfront will eliminate the need to tell students that their photo is being removed.
Do you want to allow the graduate to change the way their data is displayed? Ex: Will you display their college, degree and major or require the student to provide their own? Will you allow students to change the way their name is displayed?
Will you include every potential graduate in the virtual ceremony even if they do not register?
Will you ask students to opt-in to participating in the Virtual ceremony?
Will you collect a new physical address? This could be used to send a celebration gift or by the alumni association.
Will you have graduates from different years participating in your virtual ceremony? Some schools allow December graduates to participate in spring activities.
Will you have one celebration webpage for the entire school or will there be one for each college or department?
Timing – leave at least a week after your registration deadline before your desired 'ceremony' launch.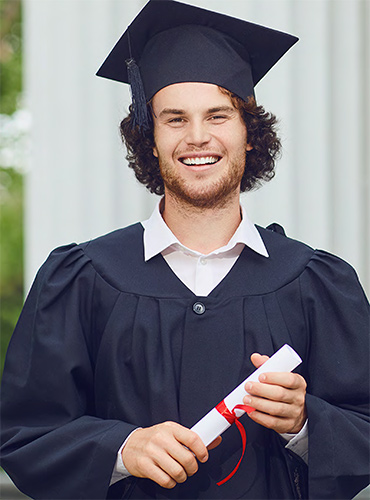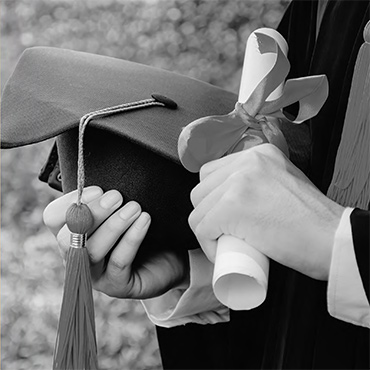 Personal Achievement Graphics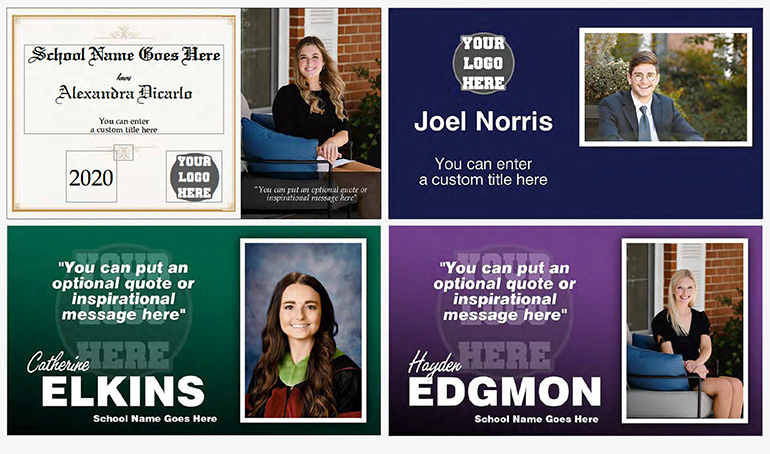 These graphics will honor the graduate by name and can include optional information such as degree, major, quote, graduate photo, school logo and school colors. These graphics are a great way to spread cheer. They are intended to be shared via social media by the student or the school. These can be distributed directly to students using a link to download their image or returned to the school in bulk. Schools can use these graphics in other ceremony plans or they can be combined into a virtual ceremony video.
Schools can also allow students to download their Achievement Graphics and share to social media directly from the Celebration Webpage created for the school to generate more traffic to their virtual ceremony.
We have fully staffed customer service available for ordering and questions, 9 a.m. to 5 p.m. EST. During peak season we add up to eight additional customer service reps to ensure quick response to customer questions.
Contact us now to book your virtual ceremony.
Ceremony Video

We can offer a video combining all of the Personal Achievement Graphics for students. This video is delivered as a high-resolution mp4 and can be hosted on a website, delivered via social media or email link or even used during a live ceremony. Virtual or online ceremony videos can be delivered with music or can be delivered with no music for the school to add their own audio. Iconic images of the campus can also be incorporated. Namereading options are also available. Click here to view a sample Virtual Ceremony Video.
Virtual Groups
We can create a virtual group picture using individual images. There is no need for a large group of graduates to be together for this to work. The Virtual Group can optionally include names and can be provided to every graduate!

Custom Webpage
We can provide a custom webpage for each school where we will host the Virtual Ceremony video. On this same celebration page we can also host each student's Personal Achievement Graphics, Name Announcement Clips and Animations depending on what is ordered. We can also accept up to 10 videos from the school and will even host the page for at least 5 years.
Click here to view a sample celebration page with a virtual or online ceremony video that includes name announcements.
Click here to view a sample celebration page with a Virtual Ceremony video on the left and sample video from the school on the right.
And we make things easy for schools by providing an optional Admin Portal where staff can review data and images collected.

Add-ons
Name announcement clips
This short movie file is where we show the personal achievement graphic AND the student's name is read aloud. Great for social media! We can return these directly to the student via a personal link!

Graduation animations
We offer animated, shareable graphics for individual students for when you want more visual appeal than a Personal Achievement Graphic. Graduate Animations can also honor the senior by name and can include optional information such as quote, graduate photo, school logo and school colors. The Animations are returned as mp4 files and are intended to be shared via social media by the student. They can be distributed directly to students using a link to download their animation. Click here for a sample animation.
Graduation gifts
Are you trying to generate goodwill during this time of uncertainty? Send your grads a gift! We can offer easy ways to send gifts to your graduates. We can even send these gifts to only graduates who register or allow graduates to make their own purchase online. Consider customized mugs, plaques containing the student's personal achievement graphics, spirit sticks that include the graduate's cut-out, yard signs, and much more!